A good, affordable turntable we recommend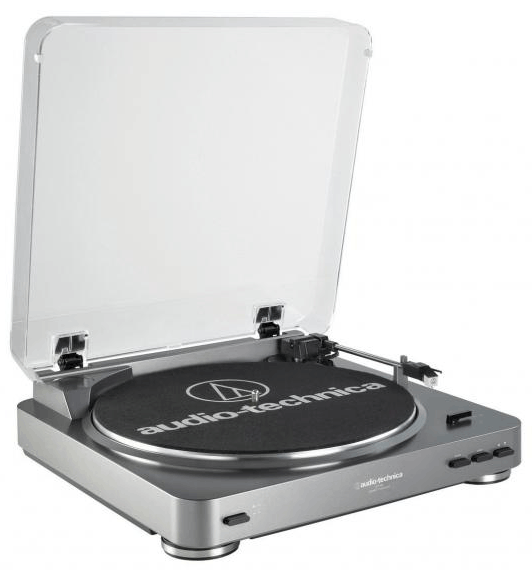 Audio Technica Turntable

Rediscover your classic 33-1/3 and 45 RPM records on this affordable, fully automatic belt-drive workhorse. With its built-in switchable phono preamp, this good quality turntable may be connected directly to your computer, home stereo and to other components that have no dedicated turntable input. The turntable is supplied with an integral Audio-Technica Dual Magnet phono cartridge with replaceable stylus.

Brand New, Factory Sealed
Features:
-Fully automatic operation with two speeds: 33-1/3 and 45 RPM
-Professional aluminum platter
-Included cables connect to your stereo or powered speakers
-Integral Dual Magnet phono cartridge with replaceable stylus
-Switchable built-in pre-amplifier with line-level RCA output cables

Specifications:
Type: Belt drive turntable, fully automatic
Motor: DC servo-controlled
Wow and Flutter: Less than 0.25% (WTD) @ 3 kHz (JIS)
Signal-to-Noise Ratio: >50 dB (DIN-B)
Output Level: Pre-amp "PHONO": 2.5 mV nominal at 1 kHz, 5 cm/sec // Pre-amp "LINE": 150 mV nominal at 1 kHz, 5 cm/sec
Phono Pre-Amp Gain: 36 dB nominal, RIAA equalized
Power Supply Requirements: 120V AC, 60 Hz, 3W
Dimensions: 360.0 mm (14.17") W x 97.5 mm (3.84") H x 356.0 mm (14.02") D
Weight: 8 lbs. shipping weight
Replacement Stylus: ATN3600L
1 year limited end-user manufacturer's warranty. All service questions must referred to manufacturer. We cannot accept the return of any merchandise for any reason.

PLEASE NOTE: Due to the fact that turntables often do not work properly when used with converters, we do not ship turntables outside of North America. Also, unfortunately, we cannot ship turntables to P.O. boxes.

Only $149 plus $12 shipping

This item cannot be added to your Shopping Cart with your CDs. It needs to be purchased separately. Just click the BUY NOW button below.